Where can I obtain a natural
facelift in Atlanta?
Dr. Mike Majmundar, double Board-certified facial plastic and reconstructive surgeon, performs some of the most natural results in a facelift Atlanta, Sandy Springs, Alpharetta, and the surrounding communities of Georgia have to offer. His precision, artistry and customized outcomes have earned him recognition as among the best facelift surgeons in the area.
---
How can I achieve a natural

result with a facelift?
Most of us want our faces to reflect how young we feel on the inside. The desire is to look like ourselves, only better – more youthful and refreshed. Dr. Majmundar is a respected facial plastic surgeon who has developed a signature Natural facelift that is a product of his years of experience and remains in high demand. Dr. Majmundar's signature Natural facelift is a combination of artistry and medicine. With his advanced surgical approach, the skin and facial structures are lifted at a natural angle, which eradicates a "pulled" or "stretched" look. It's you…only better.
Benefits of a natural
facelift include…
Seamless, organic-looking outcome
Boost in self-confidence
A better first impression
Minimal scarring
Minimal pain or discomfort
Ideal for all skin tones, types and textures
Long-lasting results
Improves age-related flaws
I felt like I was in good hands. - J. B.
Who are the best
facelift candidates?
Understanding how our face ages, along with improvements in facelift techniques over the last 10 years, has increased patient satisfaction. Dr. Majmundar's approach is a hybrid, which incorporates the use of other advanced techniques, materials, and treatments in addition to surgery.
As with all facial plastic surgery, good health and realistic expectations are prerequisites. Skin type and degree of elasticity, ethnic background, basic bone structure, as well as your personal healing time, your goals and expectations are all topics that Dr. Majmundar will discuss with you during your consultation.
Our Natural Atlanta and Alpharetta facelift candidates are usually women in their 40s-80s who are healthy, social, and active individuals but feel they look older on the outside than they feel on the inside. Because of the natural facelift technique, it is extremely popular not only for the Caucasian skin type, but also among darker skin types including ethnic skin, as the technique minimizes the stress on the incision and, as a result, minimizes the chance of scarring, including keloid scarring.
Many times Dr. Majmundar can get a facelift result by using his Natural Mini Facelift technique on individuals, minimizing downtime and incisions.
When is the best time
to have a facelift?
There is not a perfect time to have a natural facelift. Successful surgery has been performed in women in their early 30's to their late 80's. Each person ages differently based on genetics and environmental factors.
If you see sagging of your cheeks (jowling) and lines in your neck that are bothersome to you, then it's a good time to consider our natural facelift in Atlanta. The earlier you address these changes, the better your results are likely to be.
What are the components
of a natural facelift?
Components of the natural facelift include facial volumization with state-of-the-art injectables or natural tissues such as collagen or fat, and an advanced surgical approach that lifts the skin and facial structures at a natural angle.
Natural facelifts are usually combined with tightening of the facial and neck muscles, as well as neck liposuction, to remove excess fat under the chin ("double chin"), if needed. In order to achieve a balanced and proportional result, eyelid and brow lift surgery can be recommended at the same time so that the entire face appears rejuvenated and is able to age "in sync."
---
How does the natural facelift

differ from traditional facelifts?
Unlike traditional facelifts that rely on pulling the skin to obtain the lift, in our natural facelift in Alpharetta, tissues underneath the skin are tightened instead, followed by a gentle re-draping of the facial and neck skin over the tightened tissues. Excess skin is still removed, but because we don't rely on pulling the skin to get the lift, we can avoid a pulled or overdone appearance every time. Because the skin isn't pulled tightly, there is less tension on the incision when sutured back together.
When skin is pulled too tightly, it can not only give a person a pulled look, but it also causes the scars to widen and become unsightly. This is a problem for women who wear their hair up when working out or for men who have short hair. By avoiding this stress on the skin with the natural facelift, the incisions heal almost invisibly, allowing the person to wear their hair any way they want.
What can I expect
from my surgery?
Dr. Majmundar begins the incision in the area of the temple hair just above the ear, and then proceeds in front of the ear, around the earlobe, partially circling the ear and back into the hairline. We take the extra step and carry the incision behind the tragus (the flap of skin that hides the opening to your ear canal) before circling the earlobe to help hide the incisions even more.
In all cases, the incision is placed where it would fall in a natural skin crease for camouflage. The incisions are then closed with fine sutures to reduce the chance of any visible scarring. For many patients, rejuvenating the upper face with the lower face is recommended to balance the youthful contours of the lower face and to allow the face to age "in sync". As a result, a natural appearance is maintained over time.
What can I expect
from recovery?
Most patients experience very little pain after surgery, however, Dr. Majmundar will prescribe pain medication to use as needed. Some degree of swelling and bruising is unavoidable, but this can be minimized with medication to help shorten the recovery time.
Recovery usually takes 7 to 14 days, although some patients go back to work in seven days with makeup. Makeup and sunscreen can be worn after seven days. It is important to note that maintaining a natural facelift is a must. This is accomplished with annual skin care treatments and the replenishment of facial as it diminishes.
Happily, once the clock is turned back with our natural facelift in Alpharetta, you never lose the benefits that are gained.
Surgery:

Outpatient

Anesthesia:

IV sedation or general anesthesia

Procedure length:

On average, 2 ½ hours

Recovery:

On average, 10-14 days.
What are the benefits of a
deep plane facelift?
This exacting facial rejuvenation procedure comes with many benefits over a traditional facelift:
Instead of relying on skin tension for a lifting effect, the deep plane facelift musculature as well for a more natural appearance.

The deep plane facelift is no more risky to a patient than a traditional facelift.

Incisions are placed so as to be invisible.
It releases and repositions ligaments that would otherwise hold the face in an aged position.

It repositions the entire facial structure rather than parts of it

Using underlying muscle to produce lift, rather than skin.

Rejuvenates the face of patients of all ages, restoring youthfulness.
What is recovery like from a
deep plane facelift?
As with all facial surgeries, patients should expect mild to moderate swelling, bruising and some pain which is manageable by pain medication. Patients typically return to work and their social activities within 7 to 10 days of a deep plane facelift, at which point makeup will conceal the remnants of any mild bruising.
---
How will Northside Plastic
Surgery address my concerns

about treatment?

We consult with hundreds of men and women in Atlanta, Sandy Springs and the surrounding communities in Georgia every month regarding their facial appearance, and the most common concern or fear is 'looking pulled' or 'weird'.

At Northside Plastic Surgery, we specialize in surgical and nonsurgical procedures that achieve youthful and natural results. Our signature procedures, such as our natural facelift, natural brow lift, or no scar rhinoplasty, are designed to result in a balanced, healthy, and natural contour.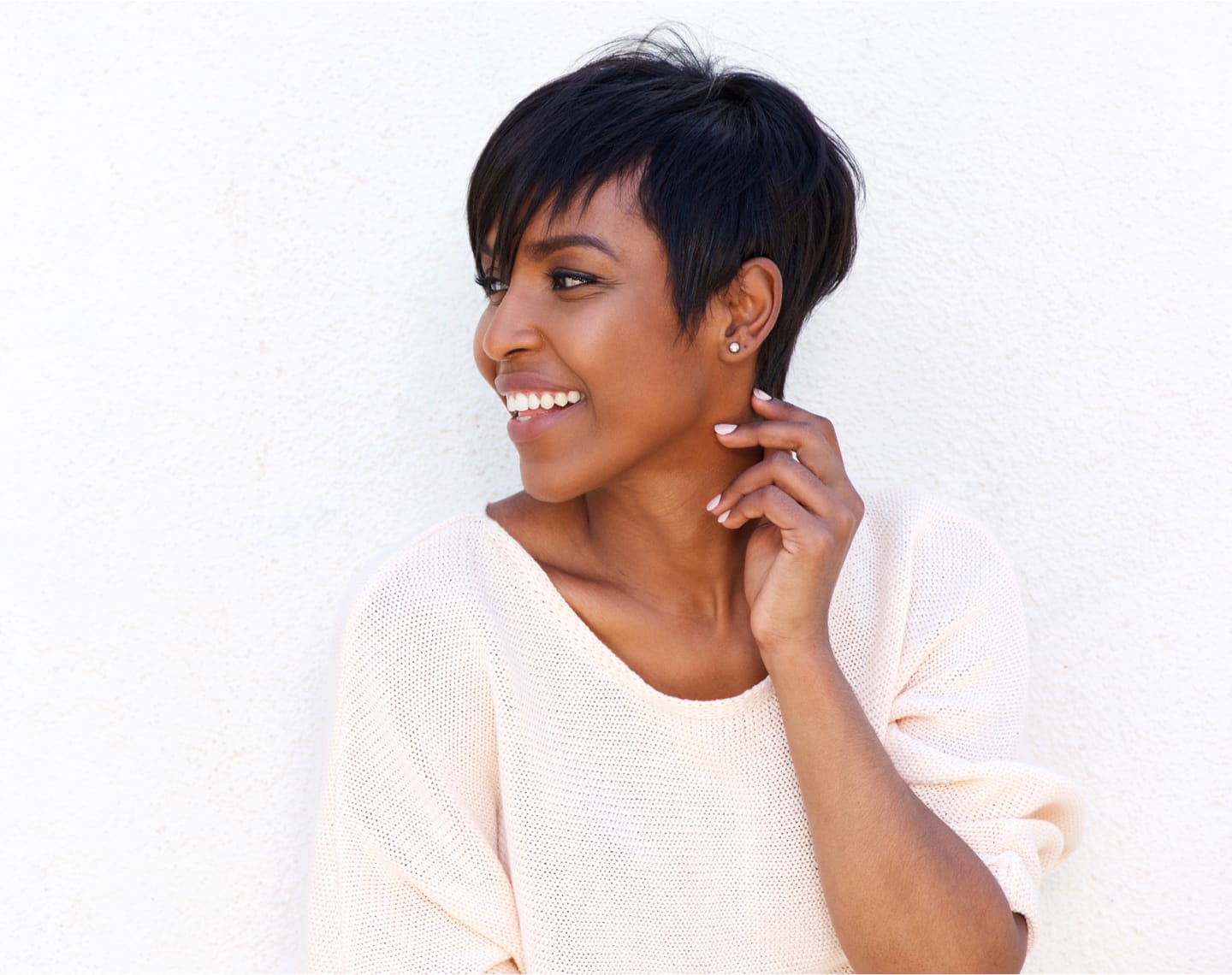 How can I anticipate
my results?
Want to know what you'll look like after the treatment? We have the Vectra XT 3D digital simulation device. It is the most advanced 3D imaging system on the market and can give you an idea of what your 'after' result can look like before you have the treatment performed. Ask for it during your natural facelift consultations in Atlanta, GA.
What is the cost of
a natural facelift?
Costs are assessed individually at your consultation, and will vary based on whether you undergo a facelift alone or in tandem with additional procedures such as a brow lift or blepharoplasty. Our offices will provide you with financing options.
Why choose Dr. Majmundar
in Atlanta for a natural facelift?
Named as a top doctor by Atlanta Magazine and US News and World Report and Castle Connolly, Dr. Majmundar has a stellar reputation for facial plastic surgery, specifically delivering results that are stunning yet highly natural-looking.
Dr. Majmundar graduated in the top 10% of his class at the Medical College of Georgia. He is a member of the AAFPRS (American Association of Facial Plastic and Reconstructive Surgery) and the American Board of Facial Plastic Surgery.
Northside Plastic Surgery is a national training facility for Galderma, as well for Suneva, which makes Bellafill. In addition, we train doctors through our private group Advanced Cosmetic Techniques.
Re-Opening May 4th Update:
As a valued member of the Northside Plastic Surgery family, I want to personally update you on steps our practice has taken to protect you and your health in light of the COVID-19 situation.
As it has always been, the safety and health of our patients and team members remains our highest priority. As your physician, I want to thank you for your support and the confidence you have in our practice. In response to the coronavirus, we have taken the basic CDC recommendations and have added the following extra measures to protect our patients:
We are waiving our $150 fee for Virtual Consultations for new and established patients.
We ask all patients to stay in their car and call us upon arrival. Once on-site, your temperature will be taken along with a screening questionnaire, you will be provided hand sanitizer, and then escorted directly to an exam room or empty reception area. We ask all patients to wear a surgical mask or face covering to their appointment. As a high-end practice, we are taking advantage of our large size and multiple VIP waiting areas to maximize social distancing.
We are performing regular and careful screening of patients with a bias for suspicion that a patient might have the coronavirus.
All staff are screened daily with a temperature check and symptom survey. All staff are required to wear a surgical mask, gloves, and perform frequent hand washing.
We take great pride in maintaining the highest standards of cleanliness and hygiene. We have increased the frequency of cleaning our public areas hourly (including lobbies, furniture, elevators, door handles, exam chairs, public bathrooms, etc.) and have continued the use of hospital-grade disinfectant. All exam rooms and highly touched surfaces are sanitized in between patients.
Because of the increased sanitizing requirements, we have reduced the number of patients that will be seen every hour and spacing out appointments.
Since we have our own fully accredited on-site surgery center, we do not have actively infected patients using our operating rooms such as in hospitals. This provides a great security blanket for our patients. We are currently performing at full capacity and completely prepared to perform all scheduled surgeries and procedures and are taking all necessary precautions to ensure your safety and well-being.
We are postponing all advanced training sessions for visiting physicians and providers until June.
We ask that all patients with upper respiratory symptoms such as cough, fever, shortness of breath to please reschedule your appointments and call your family doctor.
For more, you can always find up-to-date and accurate information on the Centers for Disease Control and Prevention (CDC) website.
Thank you for being a loyal patient. We will remain attentive to this situation and keep you updated on any changes with the practice. We are privileged to serve you and look forward to seeing you soon.
<![endif]-->