What Is a Tummy Tuck?
So, you've been dieting and exercising for months now – maybe years – in an effort to drop unwanted pounds and return to the figure of your youth. And you've succeeded! You've lost pounds and inches – everything but that loose skin hanging on your belly that just refuses to go away. Unfortunately, no number of crunches will tighten loose stomach muscles, no miracle creams will rid you of excess skin, and no diet – no matter how healthy – will tone your stomach the way you envision. Only a tummy tuck will give you the flat stomach you desire.
A tummy tuck – or abdominoplasty – is one of the most requested body contouring procedures for women in the Atlanta and Alpharetta area, and the procedure is becoming increasingly popular for men, too. Both men and women desire an improved youthful abdominal contour, whether to correct changes of aging or after weight loss. Chances are, if you are a viable candidate for a tummy tuck, then you may also be interested in additional combination surgeries, including liposuction or a mommy makeover. To schedule a consultation for arguably the best tummy tuck Atlanta has to offer, contact Northside Plastic Surgery today.
Abdominoplasty Before and After Gallery
See All
Who makes the best
abdominoplasty candidate?
If you are unhappy with the appearance of your stomach and have found that non-surgical strategies have had little effect on your physique, an abdominoplasty may be an ideal procedure to accomplish your aesthetic goals. Our doctors suggest the following general guidelines for patients:
Non-smokers, or willing to quit before their surgery
In good health, both emotionally and physically
Free from any major medical conditions that would interfere with treatment
Finished having children
Good skin elasticity
Realistic expectations for their results
Willing to follow instructions
What are my
abdominoplasty options?
You have several options for your tummy tuck: A full tummy tuck, a mini-tummy tuck, and lipo-abdominoplasty.
A full tummy tuck involves removal of excess lower skin, tightening of the muscles, and repositioning of the belly button.
A mini-abdominoplasty simply involves removal of excess skin in the lower abdomen.
Lipo-abdominoplasty involves a combination of liposuction of the trunk, combined with a tummy tuck, and is a procedure that results in improved waist definition, as well as contouring of the upper abdomen.
Whether a full tummy tuck, a mini-abdominoplasty, or lipo-abdominoplasty, the results will be a flat stomach with no rolls or bulges. Now that you've dropped the weight, a tummy tuck procedure at our conveniently located Alpharetta plastic surgery center will give you the figure of your dreams.
Patient Testimonial:
I am so glad I picked Dr. Klein to do my tummy tuck. Everyone in the office has been wonderful. - K. K.
What can I expect
during my surgery?
Our Alpharetta abdominoplasty procedures are performed on an outpatient basis under general anesthesia. In some cases, you might be given an analgesic and be moderately sedated. During the procedure, you might be given an antibiotic to prevent infection. The procedure typically takes about one and one-half to three hours.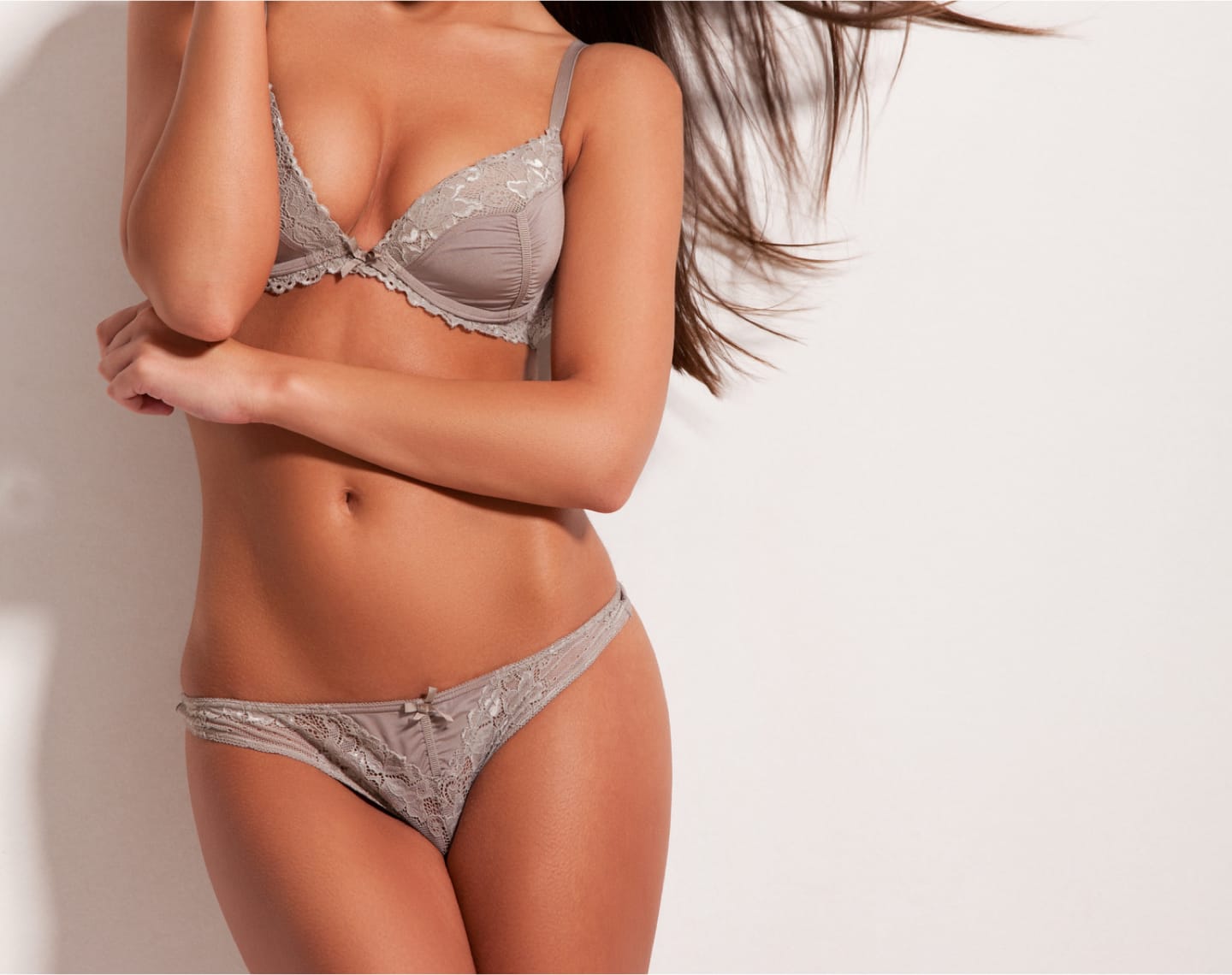 What can I expect
from my recovery?
After a tummy tuck, your abdominal incision and your belly button will likely be covered with surgical dressing. A drain is often placed to promote healing without fluid in the area.
You'll likely feel moderate pain, which will be controlled by pain medication. It's normal to have swelling in the surgical area for about six weeks. In some cases, swelling might take up to three months to resolve.
You'll be required to wear a supportive abdominal garment (abdominal binder) for about three to four weeks after your tummy tuck. This will help prevent fluid buildup and provide abdominal support while you heal.
For the first six weeks after your tummy tuck in Atlanta, GA, you'll need to somewhat limit activity, such as vigorous exercise and heavy lifting.
What is the cost
of the procedure?
Your tummy tuck costs will be explained in full during your private consultation. The total fees will depend on the option you decide on – full tummy tuck, mini tummy tuck or lipo-abdominoplasty – as well as on whether you undergo any additional treatments at the same time, such as a mommy makeover for instance. As always, our office will work with you ensure you receive the best financing options.
Why choose Dr. Klein for

a tummy tuck in Atlanta?
With over 20 years of expertise in body sculpting, Dr. Marc Klein is a veteran of the Atlanta surgical circuit, offering honest advice and exquisite results. Dr. Klein completed a demanding six-year residency at the University of Maryland in general surgery, following by a two-year residency at the Medical College of Wisconsin in plastic and reconstructive surgery. He then was chosen as a trauma fellow at the distinguished Maryland Shock Trauma Hospital. He is a member of the American Society of Plastic Surgery and a Diplomate of the American Board of Plastic Surgery.
---
How can I find out more
about a tummy tuck in

Atlanta or Alpharetta?

To determine which tummy tuck procedure is best for you, schedule a complimentary and confidential consultation for a tummy tuck in Atlanta by calling our office or completing and submitting the consultation request form. Dr. Majmundar and Dr. Klein will perform a physical exam, and create a personalized approach that meets your needs and resolves your concerns with your appearance.

They will be able to answer all your questions so you can move forward with confidence. You will have the chance to browse our before and after photos, which will give you a more accurate idea of how your results will look. You can also bring in your own photos that help the doctors to better understand your artistic sensibilities and fulfill your wishes.