Dr. Majmundar is very good at what he does. He is not only knowledgeable but takes great care of his patients. - L. T.
What does a revision
rhinoplasty procedure entail?
Dr. Mike Majmundar, double Board-certified facial plastic and reconstructive surgeon, performs some of the most natural results in revision rhinoplasty Atlanta, Alpharetta, Sandy Springs, and the surrounding communities in Georgia have to offer. Cosmetic surgery has become more popular in recent years, putting many people at risk for poor quality outcomes. Rhinoplasties, or nose jobs, are one of the most popular procedures.
If you have undergone a rhinoplasty, and are not happy with the results, you may feel like you made a poor decision. You may not like the shape of your new nose, or you may be experiencing breathing problems as a result of your surgery. Revision rhinoplasty by Dr. Majmundar, a highly skilled and experienced plastic surgeon, can help correct any problems you have as a result of your rhinoplasty.
Benefits of a revision
rhinoplasty may include…
Can improve confidence in one's image
Can help restore balance and harmony to the nose
Can help improve the breathing function
Long-lasting results
Natural-looking outcome
Inconspicuous scarring
Am I a good candidate
for a revision rhinoplasty?
You may be a good candidate for revision rhinoplasty if you have undergone a previous rhinoplasty procedure, and are unhappy with the outcome of your procedure.
Revision rhinoplasty improves your breathing after a primary rhinoplasty, and corrects any defects in your nose that resulted from a previous procedure. You should wait at least ten to twelve months after your initial rhinoplasty before deciding to have revision rhinoplasty by Dr. Majmundar. This allows your nose to fully heal before undergoing a revision rhinoplasty.
What can I expect
from the procedure?
Revision rhinoplasty is a much more extensive procedure than your first rhinoplasty. In many cases, Dr. Majmundar has to reconstruct your nose to make the necessary corrections. This is especially difficult if too much tissue was removed during your original procedure.
The surgical procedure depends on your individual case. Dr. Majmundar may need to perform only minor contouring, but most cases require extensive correction. Because tissue was removed during your original rhinoplasty, Dr. Majmundar may use tissue grafts for the revision rhinoplasty.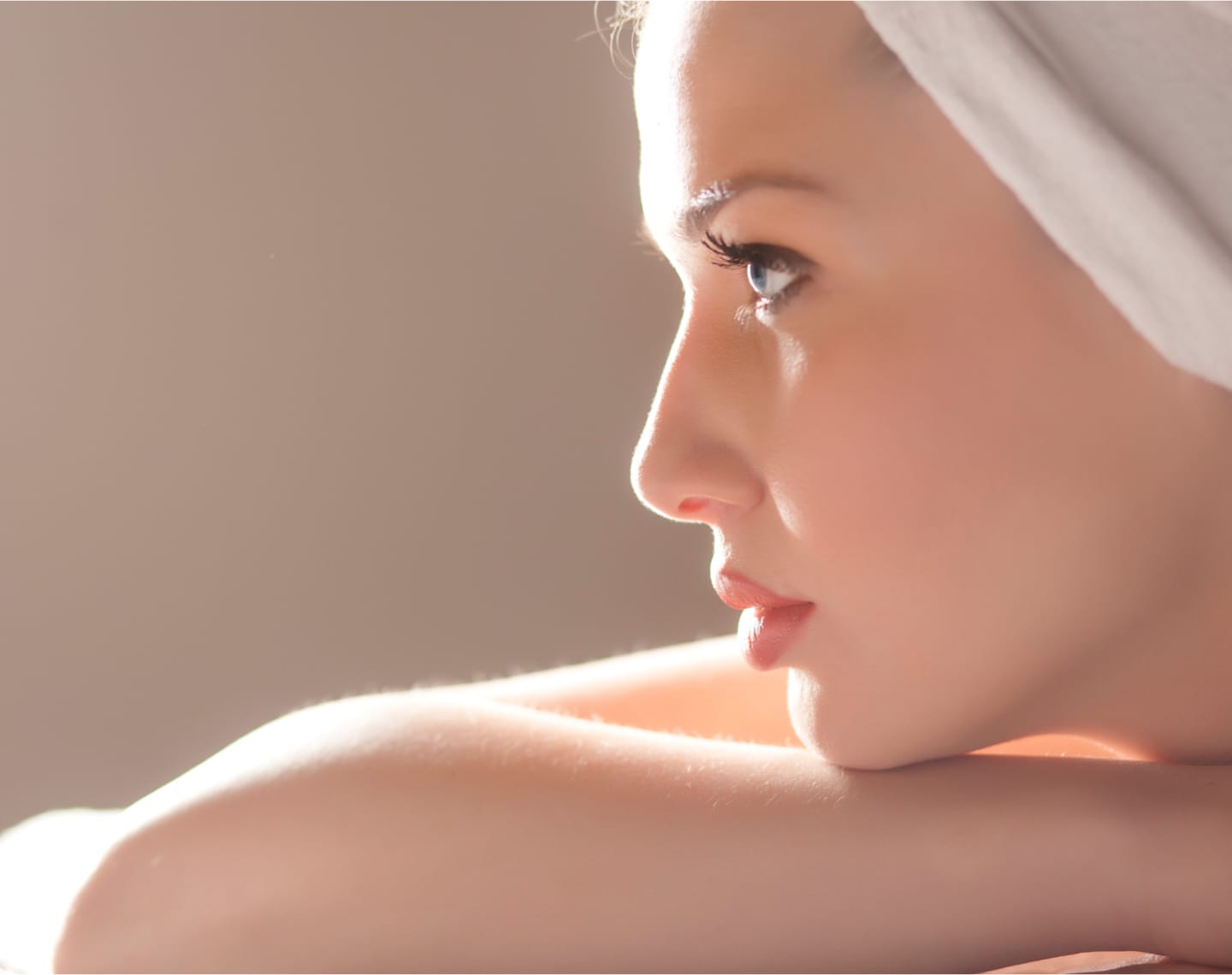 What can I expect
from recovery?
The initial healing period for your revision rhinoplasty is seven days. You may notice bruising and swelling during this time. Ten to twelve days after your procedure, the bruising and swelling subsides and you may feel more comfortable going out in public. Your activities should be limited for the first fourteen days after your revision rhinoplasty. You will have mild swelling for several months, and complete healing can take up to one year or more.
Surgery:

Outpatient

Anesthesia:

IV sedation or general anesthesia

Procedure length:

2 1/2 to 6 hours

Recovery:

On average, 10-14 days.
How will you address
my individual concerns

about my outcome?

We consult with hundreds of revision rhinoplasty candidates in Atlanta, Sandy Springs, Alpharetta, and the surrounding communities in Georgia every month regarding their facial appearance, and the most common concern or fear is 'looking weird' after surgery. Our Vectra XT 3D simulation technology allows us to customize the nose you want before you have surgery. At Northside Plastic Surgery, we specialize in surgical and nonsurgical procedures that achieve youthful and natural results. Our signature procedures, such as our natural facelift, natural brow lift or no scar rhinoplasty, are designed to result in a balanced, healthy, and natural contour.
Why should I choose
Northside for my

revision rhinoplasty surgery?

Revision rhinoplasty is a delicate, complex endeavor that requires the skill and expertise of an artist. Dr. Majmundar has a large volume rhinoplasty and revision rhinoplasty practice with individuals from all over the world. His incorporation of the Vectra XT 3D simulation technology also allows patients to feel more comfortable about the goals of the doctor and patient. Dr. Majmundar has been named among 2018's "top doctors" in the nation by Castle Connolly, and has distinguished himself by graduating in the top 10% of his class at the Medical College of Georgia. He is an active member of the American Board of Facial Plastic Surgery, and the American Association of Facial Plastic and Reconstructive Surgery.
---
What is the cost of
a revision rhinoplasty?
Because every client will come to the office with a different reason for pursuing revision rhinoplasty, costs will vary from patient to patient. Some procedures may be quite simple, while others will require a more complex approach.
If you undergo additional procedures such as a chin augmentation or otoplasty in tandem with your revision rhinoplasty, then this will also obviously affect the total cost. Our office will work with you to determine the best financing options for your needs.