Board-certified plastic surgeon in Atlanta, Dr. Mike Majmundar, MD, has been named a Top Doctor by Atlanta Magazine, a National Top Doctor by U.S. News & World Report and Castle Connolly, a Top Beauty Expert by The Atlantan, and Northside Woman, 'Top Plastic Surgeon for Face' by Best Self, and 'Best Botox and Filler Injector' by Jezebel.
Dr. Mike Majmundar's expertise is unique in that it focuses exclusively on plastic surgery of the face, head and neck. As a double board certified facial plastic surgeon, his complete approach to facial aesthetics promotes healthy skin, youthful contours, and natural results, without appearing "done" or artificial.
Dr. Majmundar is well-known for his signature Natural procedures including his Natural Facelift and Natural Mini Facelift. His expertise in primary rhinoplasty and revision rhinoplasty remains in high demand as does his nonsurgical, or liquid, facelift and rhinoplasty procedures. Trademarked in 2014, his MM Lift™ is a sought after technique to lift the face and neck non-surgically using a combination of fillers customized for each patient.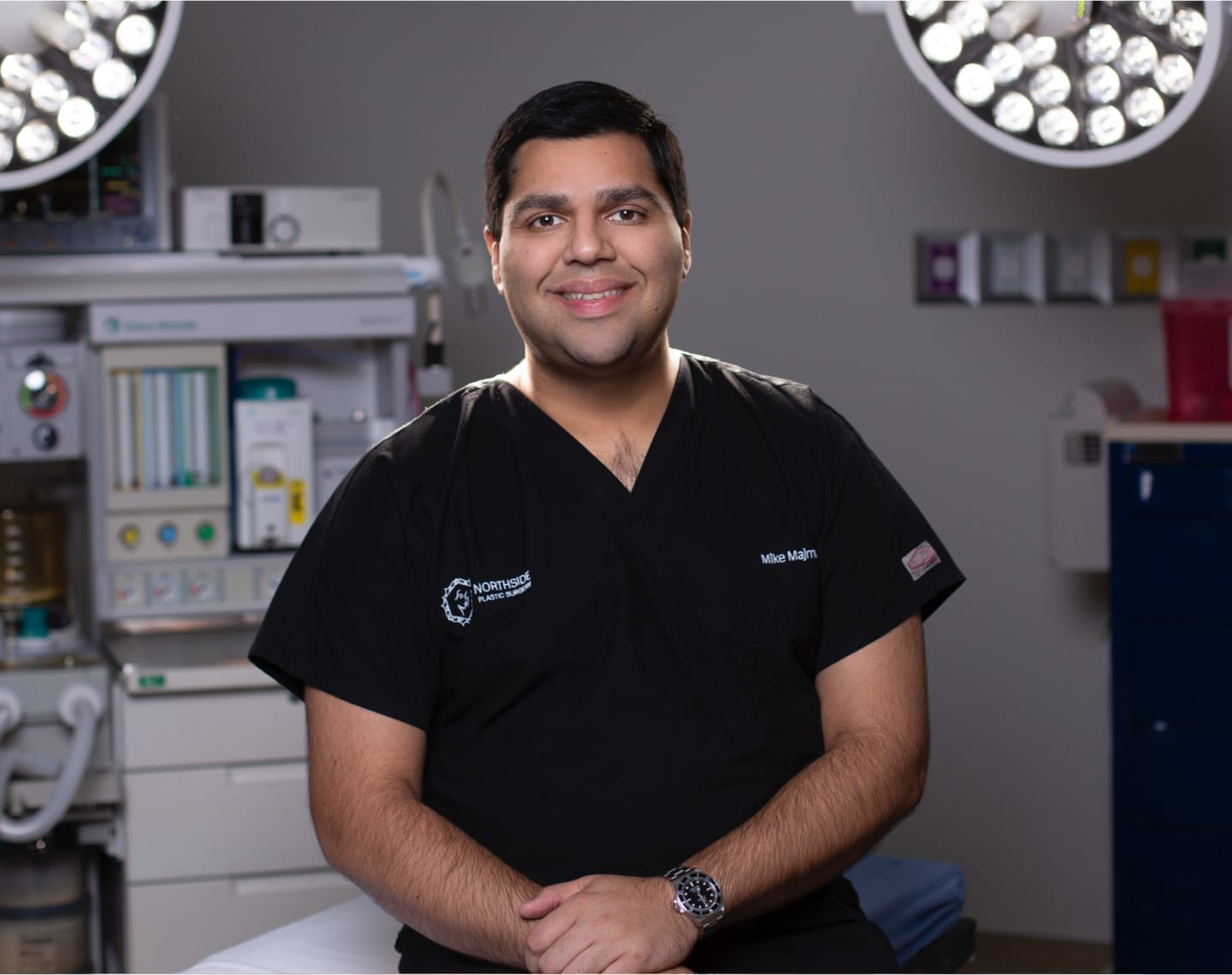 In addition, Dr. Majmundar serves as a national trainer for Galderma, the maker of Restylane, Sculptra, Dysport and other facial fillers. He is also a national trainer for Suneva who makes Bellafill and his facility is a regional training center for physicians to learn more about injecting the above fillers. Dr. Majmundar also has his own private training entity called Advanced Cosmetic Techniques, which offers surgeons the rare chance to train one-on-one with Dr. Majmundar on Allergan, Galderma, Merz, Prollenium and Suneva products using advanced and innovative nonsurgical methods.
As a highly-respected plastic surgeon in Alpharetta and Atlanta, Dr. Majmundar was also ranked in the top 6% nationally on the facial plastic surgery written board examination, graduated in the top 10% of his medical school class at the Medical College of Georgia, graduated Summa Cum Laude with a B.S. in Chemistry and a Certificate (Minor) in Biochemistry from the Georgia Institute of Technology, and was Valedictorian of his high school class. His achievements include many publications in facial plastic surgery literature and several presentations at major national and international facial plastic surgery meetings.
Dr. Majmundar approaches every visit with obvious preparation and study of his patient's needs and previous treatments. He relates to you with sincere care and keeps your best interest at heart concerning his suggestions for how to achieve the best results and also how to manage the procedures wisely financially. He is very professional and his expertise in his field is expressed with his every suggestion and application of treatment.
Being of service
to the community
Giving back to the community is a large part of Dr. Majmundar's personal philosophy and approach towards medicine. This is evident not only in his training and teaching programs, but in his volunteer-based non-profit organization Second Chance Surgeries, which gives those in developing countries a second chance at life by surgically repairing disabling or disfiguring facial deformities and defects in both adults and children. The surgeries are most often performed to correct cleft lips and palates.
Individuals suffering from facial defects may face a severe deficiency of opportunities due to their compromised appearance, and they often lack resources that others take for granted. They may be kept from attending school, be shunned by their village, and be forced to make money through panhandling.
Furthermore, they might not be able to afford to purchase prescriptions for their care. Second Chance Surgeries helps these individuals to regain their social standing and create a more normal life, free from disfigurement.
Before creating Second Chance Surgeries, Dr. Majmundar performed facial surgeries in Central America with other similar organizations including the Flying Doctors of America and Medical Outreach of America, which stimulated his passion to help those in developing nations. He has recently made trips to Central America, and plans to expand to serve Asia, Africa and South America, offering oculoplastic surgery (to treat diseases of the eyelids), facial trauma surgery, and facial skin cancer removal.
I've had a rhinoplasty and now lip implants with Dr. Majmundar. He is an expert at enhancing your natural beauty! I was also self conscious growing up because of my nose. I had that procedure in 2016, and I am so happy with the results. My nose is exactly the way I wanted it to look, and it looks natural. His facilities are beautiful and so clean, I have felt well taken care of each time I've been in his care. 100% recommend this doctor! He's incredible.