InMode's BodyTite is a groundbreaking technology that treats sagging skin tissues and pockets of unwanted fat on the body. It's the ideal solution for those who want to remove sagging skin tissues and fat from targeted areas in the body without surgeries or excessive downtime. Northside Plastic Surgery is a national training center for InMode treatments, so you can trust us to provide specialized BodyTite treatments.
What is BodyTite?
BodyTite is a non-surgical and minimally-invasive procedure wherein unwanted fat tissues are removed from your body while encouraging skin contracture. Other fat reduction procedures, like liposuction, remove the unwanted fat cells without tightening the remaining skin. However, BodyTite allows you to get rid of the stubborn pockets of fat on your body and tighten the skin tissues to achieve a sculpted appearance. The procedure is safe, effective, and involves minimal downtime.
How does BodyTite work?
BodyTite works on the principles of radiofrequency-assisted lipolysis (RFAL), i.e., a combination of radiofrequency therapy and liposuction. The BodyTite device has probes that deliver radiofrequency energy to the targeted regions to liquefy the unwanted fat tissues, vacuum them out of your body, and encourage collagen production. Over time, the skin in the treated area tightens because of new collagen fibers, making your body look firm, taut, and contoured.
Who is a good candidate for BodyTite?
You're a good candidate for BodyTite if you have sagging skin tissues or unwanted fat tissues on your body. This is an extremely targeted procedure, so it removes unwanted fat cells from specific areas, such as the abdomen, upper arms, lower back, thighs, etc. You should be in generally good physical health and have realistic expectations from the procedure. The cosmetic providers will review your medical history to determine if you have any contraindications for BodyTite.
What happens during the BodyTite procedure?
Your BodyTite procedure starts with a comprehensive consultation with cosmetic surgeons who understand your specific goals, review your medical history, and curate the ideal treatment plan. The BodyTite device consists of a prong that's inserted into the targeted area to deliver radiofrequency energy, melting the unwanted fat cells. A tube-like device called a cannula suctions the fat cells away from your body, and the radiofrequency energy facilities collagen production for skin contracture.
Before and After Gallery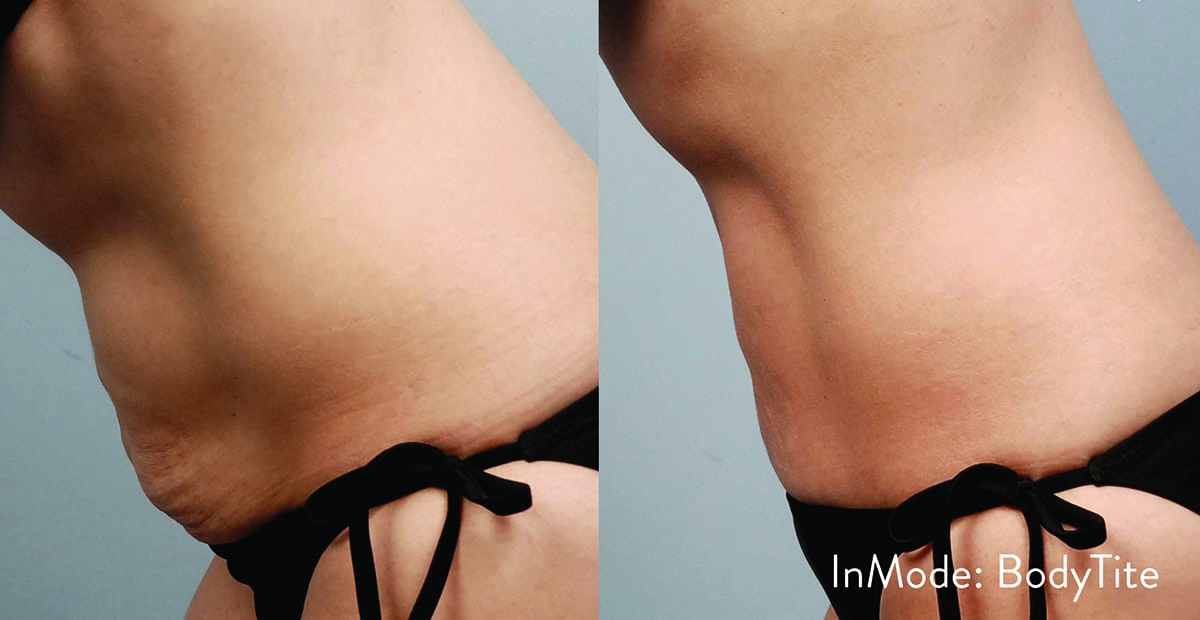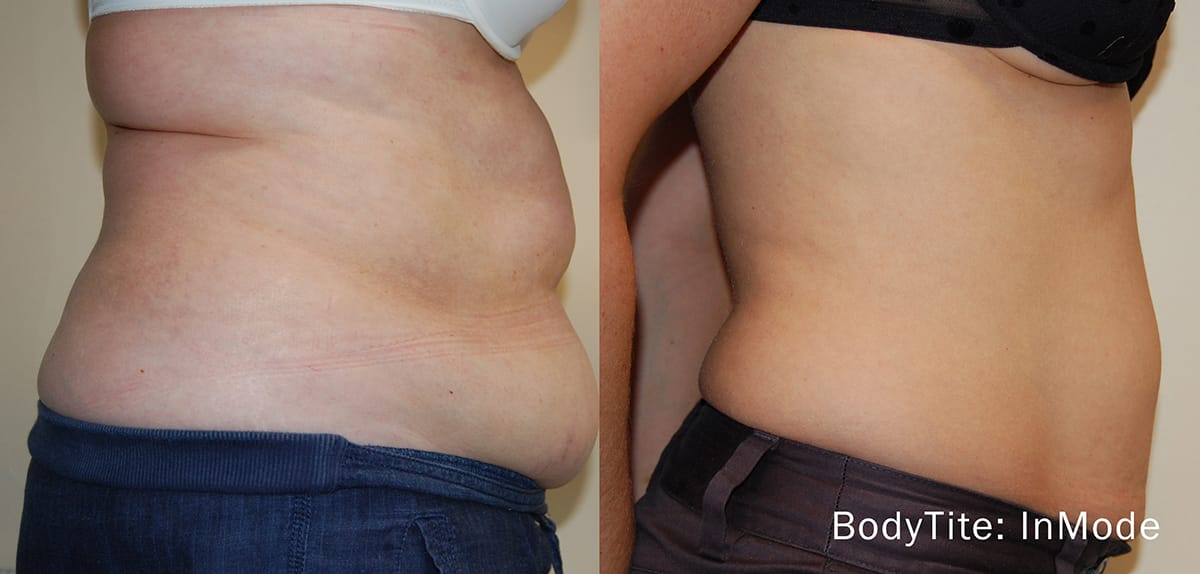 Does it hurt? What is the downtime?
The BodyTite procedure doesn't hurt because it's performed under local anesthesia with sedation. As such, there's no physical pain or anxiety. You'll experience mild redness, swelling, and bruising around the targeted areas after the procedure, but you can take pain medications to manage the discomfort. BodyTite involves minimal downtime — you can resume work within two days, but you should avoid strenuous workouts for a few weeks. The results will start appearing in 2 weeks and continue improving for 3 to 6 months.
Why choose Northside Plastic Surgery for BodyTite?
Northside Plastic Surgery is a state-of-the-art surgical center led by Dr. Mike Majmundar, a double board-certified facial plastic surgeon with specialized training in the latest body contouring procedures. Our surgical center happens to be a national training center for InMode, the manufacturers of the BodyTite device. As such, we guarantee the safest and most effective BodyTite treatments. Please schedule a consultation to discuss your BodyTite treatment options.