Beautiful facility. This staff is very warm, welcoming and kind. I went in for a consult and was very nervous but they put me at ease immediately. - D. R.
How can I get rid of the

fat that diet and

exercise just won't touch?
Even if you eat healthy and exercise, over time your body will likely develop stubborn fat that just doesn't want to go away, regardless of the fat-burning method you use.
What's worse, as our metabolism slows, these fat deposits accumulate, creating everything from double chins to love handles. Because this type of fat can be very difficult to get rid of – regardless of your diet or your number of daily crunches – more and more people in the Greater Atlanta area are turning to liposuction as a popular body contouring surgery. Here at Northside Plastic Surgery, we offer some of the best results in liposuction Atlanta and Alpharetta, GA have to offer to its liposuction patients.
What are some of the
benefits of liposuction?
A minimally invasive approach to fat loss
Quick recovery
Long-lasting results
Tighter, firmer skin
A better fit in swimwear and tight-fitting clothes
A slimmer, streamlined torso
Improved self-confidence in one's image
Results where dieting and exercise have lagged
Reduction in unwanted fat and bulging
Is liposuction
right for me?
Liposuction surgery is not an alternative to diet and exercise, or to be used as an answer for obesity. Liposuction provides the best, long-lasting results for those who are healthy, but struggling to lose areas of unwanted fat despite exercise and eating healthy.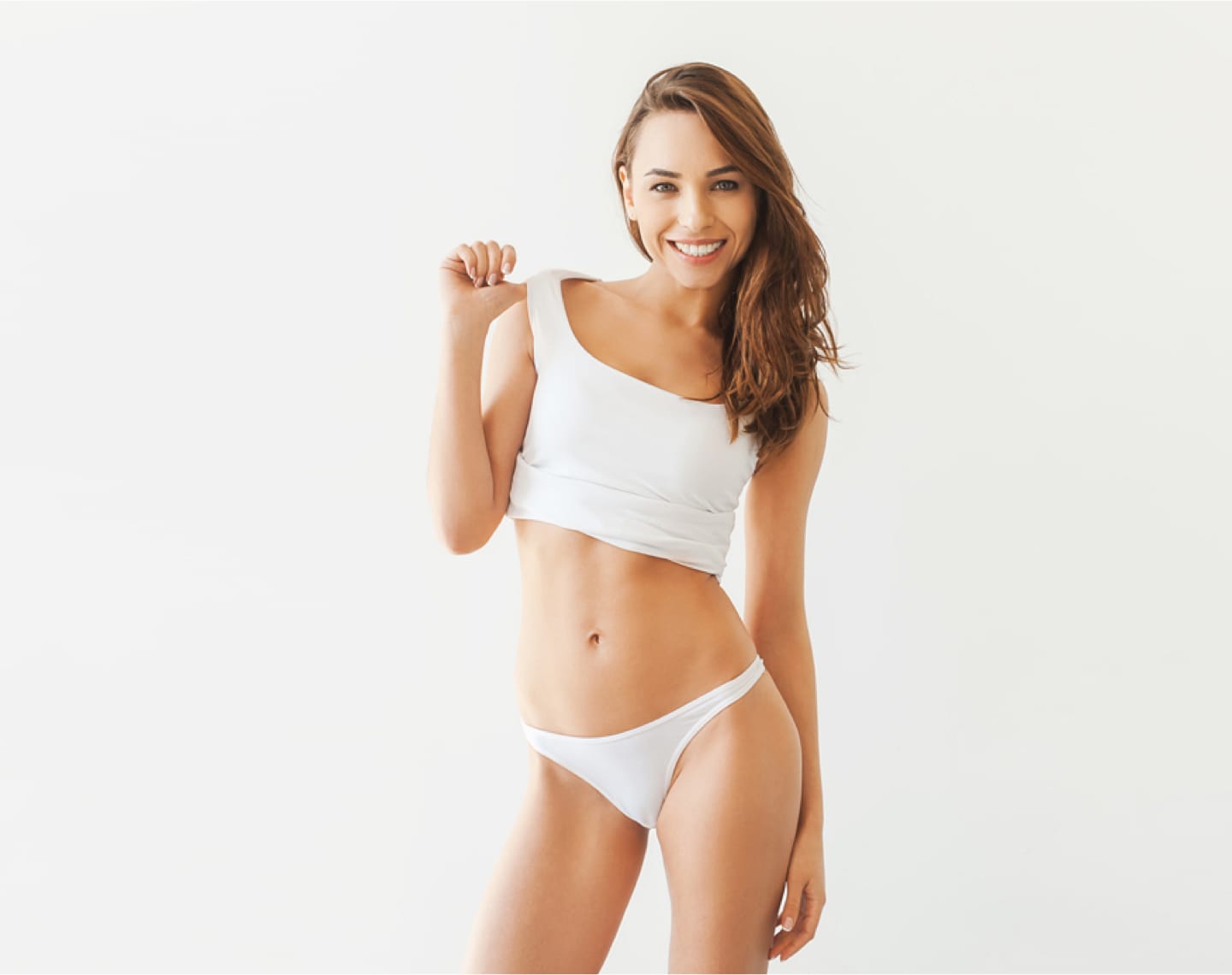 Liposuction Before & After
In general, Dr. Klein
suggests that good

liposuction candidates are…
Healthy, emotionally and physically
Not suffering from any major medical conditions that would interfere with treatment
Seeking fat loss rather than weight loss
Non-smokers, or are willing to quit before and after liposuction
Willing to follow instructions before and after treatment
Realistic in their expectations for improvement
What can I expect
from liposuction?
Our Atlanta and Alpharetta liposuction procedures are performed on an outpatient basis using general or local anesthesia. You might also be given a sedative, typically through an IV injection, to help you relax. Most surgeries are completed in less than two hours, depending on the extent of fat removal.
Dr. Marc Klein has performed thousands of liposuctions with a variety of techniques, ranging from the standard tumescent liposuction, ultrasound-assisted liposuction (VASER and Lysonix), Smartlipo, laser-assisted liposuction, power-assisted liposuction, and others. Dr. Klein has a large experience with liposuction using local anesthesia.
What are the different
types of liposuction?
Smartlipo
Smartlipo is a form of laser-assisted lipo. During Smartlipo, laser energy is used to emulsify the fat so that it can then be easily sucked out by a small cannula that is threaded through a minor incision.
UAL (ultrasonic lipo)
During ultrasonic liposuction, the fat cells are first liquefied by ultrasonic waves, making them more vulnerable to removal by a cannula. UAL provides the doctor with an increased level of precision for sculpting delicate areas of the body.
VASER lipo
VASER lipo is a popular form of ultrasonic liposuction that provides a high level of accuracy and definition for the client in terms of body sculpting. VASER stands for Vibration Amplification of Sound Energy at Resonance.
PAL (power assisted lipo)
PAL is used to provide the patient with a more precise, individualized liposuction result. During this type of lipo, the doctor will use a motorized device that creates small, rapid vibrations to help emulsify the fat cells before their removal with a cannula.
Tumescent lipo
Tumescent liposuction involves the injection of diluted lidocaine and epinephrine into the layers of fat. This helps to swell up the target areas and make them firm. Some of the benefits of tumescent liposuction are that patients no longer need general anesthesia or sedatives, and bleeding is also greatly minimized.
What is the cost
of liposuction?
Liposuction costs will vary from client to client and will depend on the type of liposuction that is pursued, and on its complexity. Additionally, if you undergo tandem treatments such as a mommy makeover or body lift, fees will naturally increase. Our office is committed to helping you to secure the most beneficial financing options possible, and the doctor will go over all aspects of pricing with you during your confidential Atlanta or Alpharetta consultation.
Why should I select Dr. Klein

for my liposuction?
Dr. Klein has over two decades of expertise in the arena of body sculpting, and is among the most sought after surgeons in the Atlanta and Alpharetta areas, leaving you with arguably the best results in liposuction Atlanta and its surrounding areas have to offer. In addition to completing a distinguished fellowship at the Maryland Shock Trauma Hopsital, Dr. Klein is a regular contributor to industry literature and research in his field. He is a member of the American Society of Plastic Surgery, and is a Diplomate of the American Board of Plastic Surgery.
---
What are the different types of liposuction?
Radiofrequency-Assisted Liposuction (RFAL) with BodyTite
BodyTite is a cutting-edge device used for radiofrequency-assisted liposuction. This is an advanced form of liposuction wherein radiofrequency energy is used to tighten the skin tissues and encourage collagen production, minimizing the risk of sagging skin caused by fat removal.
The BodyTite consists of prongs that liquefy the unwanted fat tissues with radiofrequency energy, facilitating their efficient removal via the cannula. The radiofrequency energy also stimulates collagen production at the treatment site, thereby tightening the remaining skin tissues. The procedure involves a social downtime of around 2 days.
How can I get started
with liposuction in

Atlanta or Alpharetta?

To schedule a complimentary and confidential liposuction consultation with one of our board certified plastic surgeons in our Atlanta or Alpharetta office, call 770.475.3146 or complete and submit the consultation request form.

During your Atlanta liposuction consultation, you will undergo a physical exam and a thorough review of your medical and cosmetic history. You will have the chance to browse our before and after photos for liposuction clients, and you are also welcome to bring in your own photos that reflect the kind of result you are seeking.