Achieve Lasting Results with Liposuction
Even if you eat healthily and exercise, over time your body will likely develop stubborn fat that just doesn't want to go away, regardless of the fat-burning method you use. What's worse, as our metabolism slows, these fat deposits accumulate, creating everything from double chins to love handles.
Because this type of fat can be very difficult to get rid of – regardless of your diet or your number of daily crunches – more and more people in the Greater Atlanta area are turning to liposuction as a popular body contouring surgery. Here at Northside Plastic Surgery, we provide some of the best results with liposuction in Atlanta and Alpharetta, GA.
What is liposuction?
Liposuction is among the world's most popular FDA-approved methods of body contouring. This minimally invasive fat loss technique can be used to sculpt the torso, enhancing your self-image and providing you with a whole new set of wardrobe options.
Liposuction is ideal for trimming and streamlining those regions of the body that are notoriously resistant to dieting and exercise, such as the belly, hips, thighs and waist. Dr. Klein utilizes the most advanced, cutting edge techniques currently available to safely and effectively remove the bulges and bumps that keep you feeling self-conscious about your physique.
Liposuction can be used to treat a variety of problem areas, including:
Love handles and hips
Abdomen
Upper arms
Buttocks and back
Thighs and knees
Bra rolls
Male chest (gynecomastia)
If you are relatively healthy and traditional fat-burning methods haven't worked, then liposuction is a safe and effective method that can reshape your body and restore a healthier appearance that matches your inner health.
What can I expect from liposuction?
Liposuction in Atlanta is performed on an outpatient basis using general or local anesthesia. You might also be given a sedative, typically through an IV injection, to help you relax. Most surgeries are completed in less than two hours, depending on the extent of fat removal.
Dr. Marc Klein has performed thousands of liposuctions with a variety of techniques, ranging from the standard tumescent liposuction, ultrasound-assisted liposuction (VASER and Lysonix), Smartlipo, laser-assisted liposuction, power-assisted liposuction, and others. Dr. Klein has a large experience with liposuction using local anesthesia.
During the procedure, a small incision is made at the target area. A slender tube known as a cannula is then inserted into the incision through which excess fat is vacuumed out and either discarded or saved for a future fat transfer procedure.
Liposuction can be performed on its own, or it can accompany a tummy tuck or mommy makeover procedure. By combining liposuction with other body sculpting surgeries, the doctor can deliver improved definition and shapeliness throughout the figure.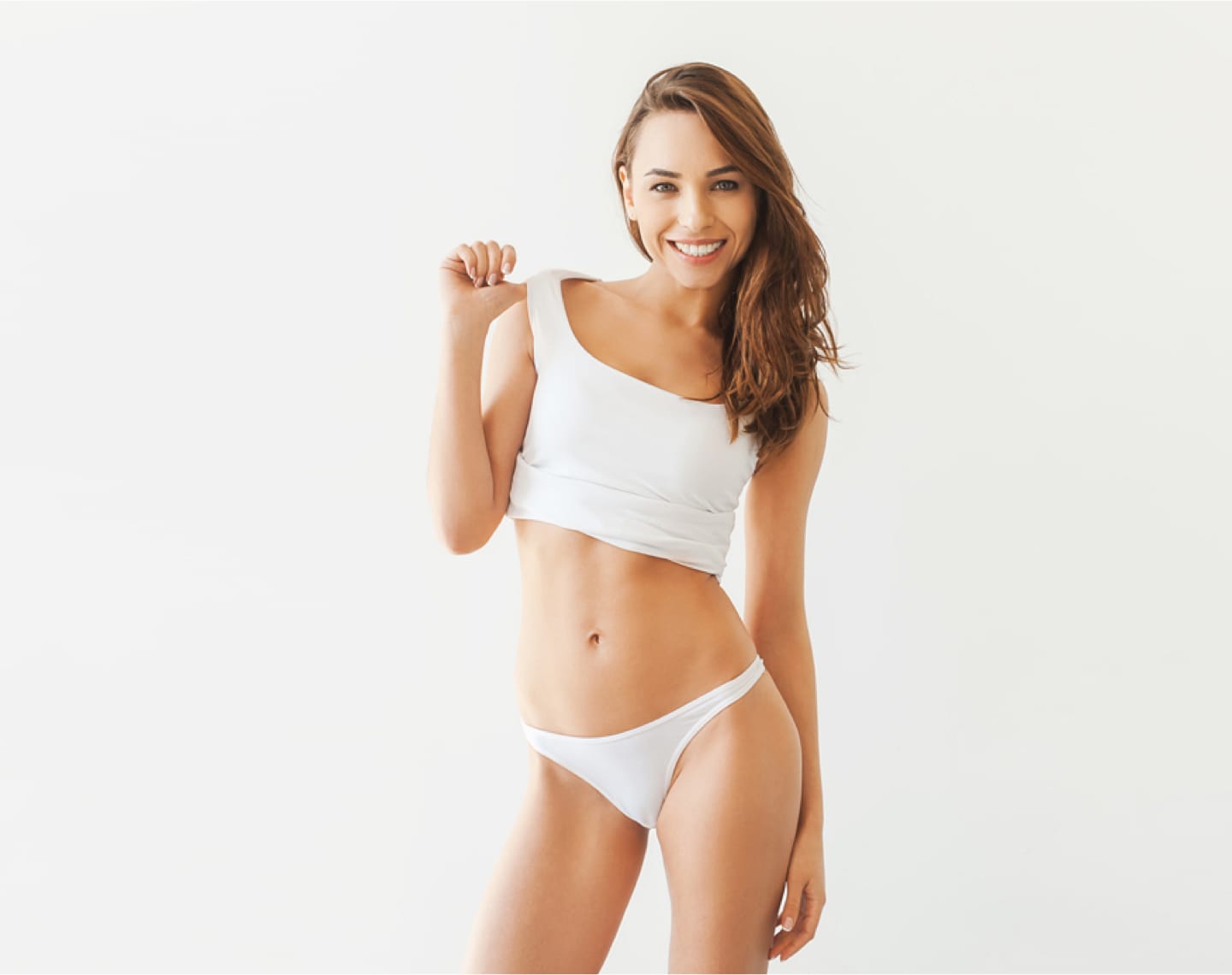 Liposuction Before & Afters
Patient Testimonial
"Beautiful facility. This staff is very warm, welcoming and kind. I went in for a consult and was very nervous but they put me at ease immediately." – D.R.
What are some of the benefits of liposuction?
A minimally invasive approach to fat loss
Quick recovery
Long-lasting results
Tighter, firmer skin
A better fit in swimwear and tight-fitting clothes
A slimmer, streamlined torso
Improved self-confidence in one's image
Results where dieting and exercise have lagged
Reduction in unwanted fat and bulging
Who is a good candidate for liposuction?
Liposuction surgery is not an alternative to diet and exercise, or to be used as an answer for obesity. Liposuction provides the best, long-lasting results for those who are healthy, but struggling to lose areas of unwanted fat despite exercise and eating healthy.
Clients considering liposuction in Atlanta should be:
Healthy, emotionally and physically
Not suffering from any major medical conditions that would interfere with treatment
Seeking fat loss rather than weight loss
Non-smokers, or are willing to quit before and after liposuction
Willing to follow instructions before and after treatment
Realistic in their expectations for improvement
What can I expect from recovery?
After the procedure, most patients experience swelling, mild bruising and discomfort. Downtime varies, but most patients return to work in two days. You will be given medication for pain and antibiotics for a few days. You will likely be required to wear a compression garment for a few weeks following surgery. This garment helps reduce swelling.
What is the cost of liposuction?
Liposuction costs will vary from client to client and will depend on the type of liposuction that is pursued, and on its complexity. Additionally, if you undergo tandem treatments such as a mommy makeover or body lift, fees will naturally increase. Our office is committed to helping you to secure the most beneficial financing options possible, and the doctor will go over all aspects of pricing with you during your confidential Atlanta or Alpharetta consultation.
Liposuction

FAQs
What happens if I put on weight after my procedure?
Liposuction can permanently rid the body of fat cells. Once they are removed during your procedure, they will never return. If you do gain weight, fat cells in the untreated parts of your body can expand, but the treated areas will still appear shapely. Clients should continue to adhere to a healthy diet and exercise regimen after their treatment in order to maintain their body contouring results.
Is liposuction a safe procedure?
When performed by a board-certified plastic surgeon with expertise and skill in body contouring, liposuction is perfectly safe and effective. Liposuction has among the lowest complication rates out of any cosmetic procedure.
Is liposuction painful?
Newer, innovative liposuction techniques have gone a long way to reduce discomfort during the procedure. Most clients find liposuction to be minimally painful, especially when the treatment is performed using local anesthesia with IV sedation.
What are the risks involved with liposuction?
Complications with liposuction are rare, but can sometimes occur if the surgeon attempts to treat too many areas on the same day. Potential risks include anesthesia risks, infection, bleeding, nerve injury, or skin ulcerations.