Where can I undergo a
natural neck lift in Atlanta?
Dr. Mike Majmundar, double Board-certified facial plastic and reconstructive surgeon, performs arguably the best neck lift Atlanta, Sandy Springs, Alpharetta, and the surrounding communities of Georgia have to offer its patients. With thousands of necklifts performed, Dr Majmundar specializes in a natural necklift result that maximizes the neckline and jawline contour. For a slimmer and more youthful look, many people choose to have natural neck lifts. As one of the most common and less invasive plastic surgery procedures, natural neck lifts can tighten the loose skin around your neck, get rid of a double chin, or 'turkey neck', and give you an overall polished presence.
What is a
natural neck lift?
A natural neck lift is a combination of procedures to enhance the appearance of a person's neck. Depending on the person and the type of neck, it may include the removal of skin, liposuction or direct excision for fat removal, tightening of neck muscles, or all three.
What is the difference between a mini-neck lift, a natural neck lift, and an extended natural neck lift?
Because Dr Majmundar only specializes in facial plastic surgery, he can provide multiple customized options to treat the neck in different anatomy subtypes. In younger patients who have mild neck skin excess, a mini-neck lift can be performed in the office with little downtime. Alternatively, these same patients can take advantage of nonsurgical neck tightening options such as Ultherapy, Genius, CO2 laser, threadlifts, CoolSculpting, etc., among others. An extended natural neck lift extends the incision for a necklift from only behind the ear to include the area just in front of the earlobe to address moderate neck skin excess in certain patients. In individuals with moderate neck skin excess and moderate jowling, a mini facelift or facelift can be performed which includes our natural neck lift.
Who is a good candidate
for a natural neck lift?
Patients with these conditions make very good candidates for a
Natural Neck Lift:
Pronounced signs of facial aging
Excess skin
A double chin
Vertical bands
Turkey neck
Jowls
A desire to look more youthful and vibrant
Thin patients with extra skin and neck banding (vertical bands that extend from the middle of the chin to the bottom of the neck) can also greatly benefit from a Natural Neck Lift in Alpharetta.
What is the cost of
a natural neck lift?
The cost of a neck lift depends on the geographic location of the procedure, what facility it is done in, the type of neck lift performed, your surgeon's credentials, his or her revision rate, and your surgeon''s reputation and experience. Neck lifts can range from $7,000 - $10,000. As every person has a different facial and neck anatomy and concerns to be addressed, the approach for a neck lift is individualized. Not all necklifts are the same. Mini neck lifts are a good and less costly option for many younger patients. Looking at before and after photos will help you get an idea of the surgeon's aesthetic judgement and how natural his or her neck lift results are. Picking the right surgeon the first time around is well worth the cost of a neck lift done right the first time, instead of a revision being required.
Practices such as ours, with their own accredited outpatient surgery center with a board certified anesthesiologist on staff, can control facility fees and thus lower the overall cost to much less than any hospital. Infection rates are also much better controlled than they are in hospitals. We specialize in Natural Facial Plastic Procedures such as our Natural Facelift and Natural Neck Lift to provide patients with a natural appearance to their face after surgery.
What are the benefits
of a natural neck lift?
Our natural neck lift in Atlanta and Alpharetta improves the neckline by reducing heaviness, extra skin, and tightening the neck muscles, if needed. Many individuals, usually because of weight loss or genetics, will only need their neck addressed. However, some will need a natural mini-facelift or natural facelift, in addition to a natural neck lift, to improve any heaviness in the cheeks and jawline along with the neck. Everyone wants to have a natural and balanced look; to that end, if you have a beautiful neckline with sagging cheeks, this will look disproportionate and unbalanced. Having an open discussion with your plastic surgeon to decide which procedure, or combination of procedures, would make you the happiest is the best way to determine whether a natural neck lift is right for you.
Natural Neck Lift
in Atlanta Before and After Gallery
See All
What are some
other advantages?
Long-lasting results
Reduction of a double chin
Defined jawline
Improved neckline contour
Reduction in horizontal neck lines
Improved sense of confidence in one's image
Slimmer, more youthful profile
Smoother, more radiant skin
Overview of the surgery:
Surgery:

Outpatient

Anesthesia:

IV sedation or general anesthesia

Procedure length:

1 ½ to 2 ½ hours

Recovery:

10-14 days
How will you address
my special concerns?
We consult with hundreds of men and women in Atlanta, Sandy Springs, Alpharetta, and the surrounding communities in Georgia every month regarding their facial appearance, and the most common concern or fear is 'looking pulled' or 'weird'.
At Northside Plastic Surgery, we specialize in surgical and nonsurgical procedures that achieve youthful and natural results. Our signature procedures, such as our natural facelift, natural brow lift, or no scar rhinoplasty, are designed to result in a balanced, healthy, and natural contour.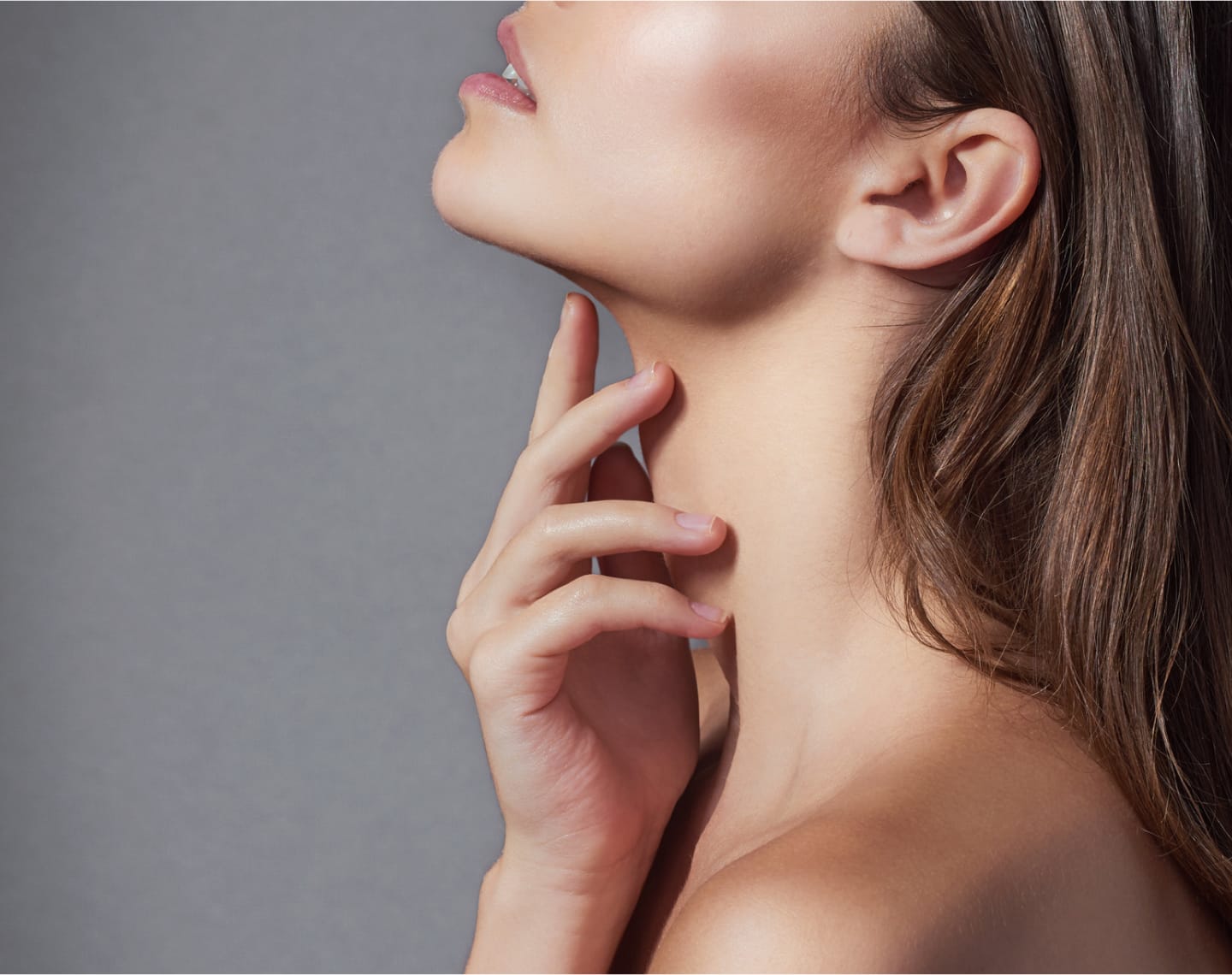 How does our natural neck lift

differ from other neck lifts?
Unlike traditional necklifts that rely on pulling the skin to obtain the lift, in our natural necklift, tissues and muscles underneath the skin are tightened instead followed by a gentle natural re-draping of the neck skin over the tightened tissues. Excess skin is still removed, but because we don't rely on pulling the skin to get the lift, we can avoid a pulled or overdone appearance every time. Because the skin isn't pulled tightly, there is less tension on the incision when sutured back together. The incisions are behind the ear except in the extended natural necklift (when there is excess neck skin present) where the incision extends into the crease in front of the ear lobe.
When skin is pulled too tightly, it can not only give a person a pulled look but it also causes the scars to widen and become unsightly.
This is a problem for women who pull their hair back, wear their hair short, or for men who have short hair. By avoiding this stress on the skin with the natural necklift or extended natural necklift, the incisions heal almost invisibly allowing the person to wear their hair any way they want.
Is a natural neck lift painful?
Less than 5% of patients undergoing the natural necklift or extended natural necklift complain about pain. Every person has a different pain tolerance and, as such, pain medicine is provided to every patient; however, 95% of patients undergoing this procedure use nothing more than Tylenol.
Neck Lift

FAQ
What is the best treatment for sagging neck skin or turkey neck?
Turkey Neck is most often associated with facial weight or volume loss, or with genetic premature aging. Treatment options depend on the size of the turkey neck and include ultherapy for skin tightening, liposuction for neck fat (CoolSculpting and Kybella also work well for this) or a neck lift. Regardless of the tightening technique used, if the face or midface lack adequate volume, skin tightening won't give the expected result, and a neck lift would be advised for best results.
Rapid weight loss can lead to excess skin in many areas as well as muscle banding. Nonsurgical options are not likely to be effective, and a neck lift with a platysmaplasty would be a far better option. If you have jowls and want to improve them, it's best to do so at the same time, making a mini facelift with platysmaplasty the best option.
What are the best neck fillers?
How well fillers work on the neck depends on the elasticity of the skin there. With poor skin tone or elasticity, fillers can give a lumpy appearance or provide no result at all. Vertical bands in the neck (platysmal banding) can be treated successfully with Botox, Dysport or Xeomin, but these affect the skin itself mildly. Increasing skin tone on the neck with Sculptra or CO2 laser or our plasma device both can help improve the appearance of the neck skin.
How can I fix the flabby, wrinkled skin on my neck after losing a lot of weight?
Small amounts of skin under the chin can be treated nonsurgically with Kybella, CoolSculpting, CO2 laser, plasma tightening, threadlifts, or Ultherapy. Considerable amounts of excess loose skin usually requires surgery. Neck lifting is an option, and a mini facelift is often an even better choice to tighten the neck and the areas above that may be sagging into it.
How do I fix horizontal deep creases in my neck?
For younger patients, this is a common problem with, unfortunately, only a few corrective options. Protege elite, RF microneedling, CO2 laser, plasma tightening or ultherapy can tighten the skin, but will likely not make the lines go away entirely, and adding a filler like Sculptra or Restylane can also help.
What is the least invasive way to remove a neck wattle?
With the growth in nonsurgical technological devices, we can treat certain types of neck skin excess and neck heaviness nonsurgically. Treatments include Ultherapy, Genius RF microneedling, threadlifts, fat removal with Kybella or CoolSculpting which provide mild skin tightening as well, plasma tightening, and CO2 laser. The direct, or anterior neck lift, is a decent option for removing that unwanted neck tissue. It provides better functional options and is less invasive, creating a scar that is visible. Consulting with Dr Majmundar to determine your anatomy type will help determine the best option for you
Will I need to wear a chin strap after a neck lift?
The chin strap provides an additional layer of security, ensuring the skin won't sag throughout healing, making it a pretty common suggestion in most practices. A variety of chin straps are available for claustrophobic patients and others who prefer not to wear them.
What options do I have for tightening my jowls?
Mild jowling can be corrected in a number of ways, with fillers being the best option. Used appropriately, these will lift the jowl and improve the jawline. Tightening the skin with CO2 laser can also improve the jawline. For more advanced sagging in the jowls, a mini facelift or extended neck lift in Atlanta is often the best option.
Why should I choose
Northside in Atlanta

for my neck lift?

With thousands of necklifts performed, Dr. Majmundar is a sought after authority in the realm of facial and neck contouring and delivers nuanced, personalized outcomes that reflect your goals and wishes. He has been named among the nations "top doctors" by Castle Connolly for the last 10 years.

Dr. Majmundar distinguished himself by graduating in the top 10% of his class at the Medical College of Georgia and Summa Cum Laude from Georgia Tech. He is a member of the American Association of Facial Plastic and Reconstructive Surgery and the American Board of Facial Plastic Surgery.