Achieve youthful, natural-looking eyes with eyelid surgery (blepharoplasty)

in Atlanta
Dr. Mike Majmundar, double Board-certified facial plastic and reconstructive surgeon, performs natural eyelid surgery in Atlanta, Sandy Springs, Alpharetta, and the surrounding communities in Georgia. With thousands of surgeries performed, Dr Majmundar is highly sought out for his natural blepharoplasty results. It has been said that the eyes are the windows to the soul. Many Americans feel the same, since over 100,000 men and women choose natural blepharoplasty every year to improve the appearance of their eyes. Natural blepharoplasty, or eyelid surgery, is the most commonly performed facial cosmetic surgical procedure in the country. Men represent 20% of the total.
Because of its thin skin, the eyes are one of the first areas to show aging, which can appear as early as the late twenties or early thirties. Excess eyelid skin and puffiness can make you look older, tired, or even angry. Heavy upper eyelids or low brows can contribute to this as well. Natural blepharoplasty can help remove 'bags under the eyes', improve dark circles, remove excess skin and bulging fat, and soften fine lines and wrinkles. Natural blepharoplasty results in a more youthful, refreshed appearance with younger, firmer eyes.
Patient Testimonial
Always a great experience – so professional and caring about patients/clients. Appreciate the attention to detail to desired results…wouldn't go anywhere else. - T. D.
Natural Eyelid Surgery
in Atlanta Before and After Gallery
See All
What is the cost of eyelid surgery?
The cost of a natural blepharoplasty depends on the geographic location of the procedure, what facility it is done in, the type of blepharoplasty performed, your surgeon's credentials, his or her revision rate, and your surgeon's reputation and experience. Eyelid surgery in Alpharetta can range from $3,500 - $4,095 for one set of eyelids, so uppers or lowers. As every person has a different eyelid anatomy and concerns to be addressed, the approach for a blepharoplasty or eyelid lift is individualized. Not all eyelid lifts are the same. Looking at before and after photos will help you get an idea of the surgeon's aesthetic judgement and how natural his or her blepharoplasty results are. Picking the right surgeon the first time around is well worth the cost of a blepharoplasty done right the first time, instead of a revision being required.
Practices such as ours, with their own on-site accredited outpatient surgery center with a board certified anesthesiologist on staff, can control facility fees and thus lower the overall cost to much less than any hospital. Infection rates are also much better controlled than they are in hospitals. We specialize in Natural Facial Plastic Procedures such as our Natural Blepharoplasty and Natural Browlift to provide patients with a natural appearance to their eyes after surgery.
Am I a candidate
for eyelid surgery?
You are likely a great candidate for Atlanta blepharoplasty if you:
You are in good overall health
You have realistic expectations for the procedure
You are in your late 30s or older
You are experiencing baggy or droopy eyelids that affect your aesthetic appearance
Your eyelids are impacting their vision
At your consultation with Dr. Majmundar, speak frankly, ask questions, and explain your expectations and we will work together to help you make the decision that is right for you.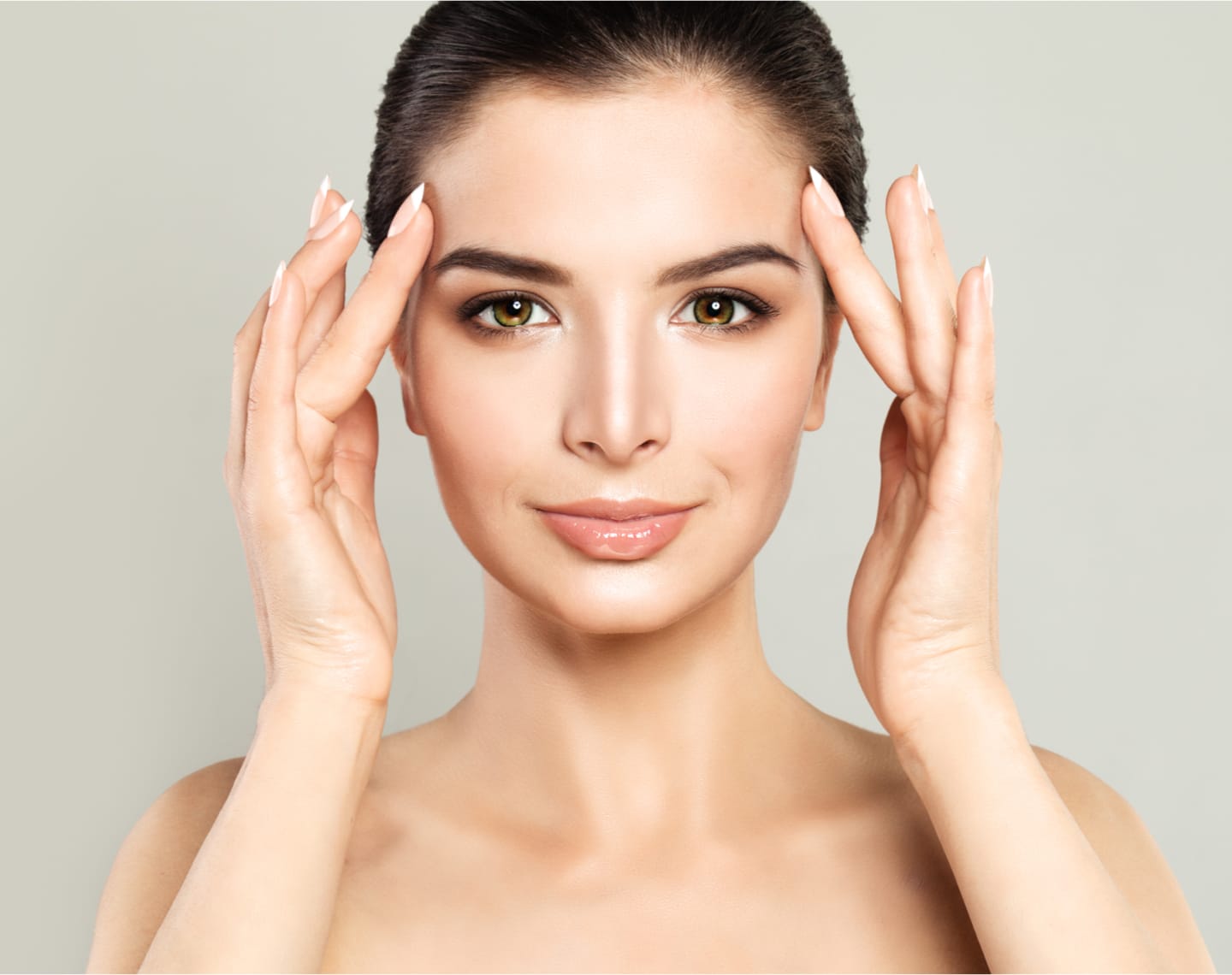 Does blepharoplasty address
both upper and lower eyelids?
There are two types of natural blepharoplasty: upper lid and lower lid. Both can be performed under twilight or general anesthesia on an outpatient basis. Upper lid blepharoplasty can usually be performed under local anesthesia in the office. In upper lid natural blepharoplasty, an incision is made in an upper lid crease using a laser or scalpel in order to keep the scars as invisible as possible inside these natural folds. Excess overhanging skin and bulging fat are removed. Fine sutures are used to close the incisions. In many patients, heavy upper eyelid skin may be caused by 2 factors: the excess upper eyelid skin and a low eyebrow which exaggerates the heaviness. In these patients, our natural mini browlift is an excellent adjunct procedure to add to the natural upper lid blepharoplasty to maximize the upper eyelid appearance. This results in a more defined lid crease and an open, refreshed appearance to the eye.
Our lower lid natural blepharoplasty in Alpharetta can be performed in multiple ways. The two most common methods involve an external incision made using a laser or scalpel just below the eyelashes, and bulging fat and excess skin are removed before the incision is closed with fine sutures. Alternatively, an internal incision can be made on the inside of the lower eyelid, allowing removal of fat but not skin. This is more appropriate for younger patients who do not need skin removed. Many patients have a hollowing below their lower lid. In this case, fat injections may be needed in addition to skin tightening to improve the smoothness and aesthetic of the lower lid. The type of natural blepharoplasty you need depends on age, skin type, ethnic background, and degree of vision obstruction.
Will upper eyelid blepharoplasty
or lower eyelid blepharoplasty change my eye shape?
Dr Majmundar specializes in a natural eyelid lift or blepharoplasty for both upper and lower lids. As such, patients can expect to maintain their natural eye shape after surgery. However, the eye shape can be altered if desired.
What if I have special
concerns about my

blepharoplasty outcome?

We consult with hundreds of men and women in Atlanta, Sandy Springs, Alpharetta and the surrounding communities in Georgia every month regarding their facial appearance, and the most common concern or fear is a different eye shape or 'looking pulled' or 'weird'. At Northside Plastic Surgery, we specialize in surgical and nonsurgical procedures that achieve youthful and natural results. As such, you can expect your eye shape to remain the same after surgery. Dr Majmundar will evaluate your anatomy during your consult and will recommend additional procedures, such as our natural mini browlift or fat injections if needed, to give you the most refreshed but natural look. Our signature procedures, such as our natural facelift, natural brow lift, or no scar rhinoplasty, are designed to result in a balanced, healthy, and natural contour.
What makes Northside
the right choice for my

blepharoplasty in Atlanta?

Eyelid surgery is a delicate, complex procedure that requires the touch of precision-based artists such as Dr. Majmundar. With thousands of procedures performed, Their practice solely focuses on facial plastic surgery with a niche for natural results. As such, not only can he provide a natural blepharoplasty result but can also recommend a browlift, laser treatment, fat injections, etc., that can be performed at the same time to enhance your blepharoplasty result. Dr. Majmundar has been named among the "top doctors" in the nation by Castle Connolly, Atlanta Magazine and US News and World Report for over a decade, and he trains other surgeons and residents on a regular basis, sharing his expertise and knowledge. Dr. Majmundar graduated in the top 10% of his class at the Medical College of Georgia, Summa Cum Laude from Georgia Tech, and today is a member of the American Association of Facial Plastic and Reconstructive Surgery, and the American Board of Facial Plastic Surgery.
Eyelid Surgery

FAQ
What is the standard eyelid surgery recovery time?
Two weeks is usually ample time for full recovery from eyelid surgery in Alpharetta. Throughout the first week after surgery, your movements will be more restricted, and such things as working out, or possibly working at all depending on your employment, are best avoided. In the second week, your stitches will be removed and you'll be better able to allowed to resume your normal social and work activities, albeit with possible minor bruising and swelling under the lower lids that is still dissipating fully (The lower eyelids typically bruise much more than the upper eyelids.) In 12 to 14 days, any remaining evidence of surgery can be easily and safely hidden by make-up. Most of patients Dr. Majmundar treats who work in front of TV cameras will return in front of the camera at 14 days out, but all of them require makeup.
Can eyelid surgery correct one eye looking bigger than the other?
Most people have an asymmetry between their eyelids, with one larger or smaller, or more open or closed than the other. This isn't always noticeable but is very often present. This maybe a result of stretched ligaments in the upper or lower lids, overactive muscle contractions or spasms, or uneven fatty deposits for volume loss. Smartly used, Botox can help correct this asymmetry or unevenness if it stems from the brows. If it stems from the eyelids themselves or a difference in the accumulation of fatty tissue, eyelid surgery may correct it.
My upper eyelids are droopy. Are there any alternatives to eyelid surgery?
Droopy eyelids often respond well to a surgical intervention that requires approximately 30 minutes and can be done under local so alternatives are not commonly employed. However, some of the viable and effective alternatives to surgery include Botox that can be used to help lift the edges of the brows a few millimeters and lessen the heaviness of the outer eyelids. Volume can also be added under and around the brow to reduce the appearance of eyelid heaviness. CO2 laser resurfacing or plasma skin tightening can also be done with topical anesthesia, to tighten extra skin and improve its appearance. One or more of these 3 nonsurgical options, or a combination of them, is very effective in nonsurgically treating drooping eyelids.
Should I have my upper eyelid blepharoplasty done at the same time as my lower eyelid blepharoplasty?
The surgery you have should always address your main concern. Having said that, it is highly recommended to combine the upper and lower lid surgeries as it allows the entire eye unit to appear youthful and refreshed, but, more importantly, it also allows both areas to age at the same time and same rate going forward so one area doesn't look older than the other.
How long do upper and lower eyelid blepharoplasties last?
Typically, upper and lower eyelid blepharoplasties last 20 years plus. However, the aging process continues after surgery and minor procedures such as CO2 laser, ultherapy, or plasma skin tightening may be intermittently needed to tighten any loose skin that occurs over time. Also, volume loss under the eyes occurs with aging and volume, such as fat or filler, may need to be added to address this loss.