I love this location and I love Dr. Klein. So friendly, yet professional, and he is an artist at heart. The office staff is warm and accommodating and it is always a pleasure to come, as I know I will be left looking a lot better than when I started! - K. H.
What will my Atlanta
thigh lift entail?
A thigh lift can help to restore shape to sagging skin that can occur after significant weight loss or merely due to aging. This procedure can lead to a major improvement in appearance and often times in comfort.
At the initial consultation, Dr. Klein will examine your areas of concern, evaluating your skin elasticity and the amount and distribution of fat and skin. Together, you will decide whether a thigh lift alone or in combination with a butt lift, abdominoplasty, liposuction, or other procedures will best achieve your expectations. For the best thigh lift Atlanta has to offer, we use our Vectra 3D Imaging Simulation, showing you your possible outcome, which can help with your decision on a thigh lift.
What are some of the
benefits of a thigh lift?
A more youthful appearance to the upper legs
A better fit in shorts, swimwear and tight-fitting clothing
Increased confidence in one's image
Long-lasting outcome
Results where dieting and exercise have failed
Natural-looking results
Inconspicuous scarring
A slimmer, tighter thigh silhouette
A reduction in thigh fat and excess skin
Who makes a good
thigh lift candidate?
Those clients in the Atlanta and Alpharetta areas who are frustrated with bulging, disproportionately large thighs may have tried everything, from dieting to working out at the gym day and night. If you have exhausted your non-surgical options for improvement, a surgical thigh lift may represent a refreshing new approach to accomplishing your aesthetic goals.
Those suffering from loose thigh skin that ripples or sags on the inner or outer thighs may be good candidates, as are those that may have lost a significant amount of weight recently. Aging clients seeing the effects of collagen depletion in their thighs are also good prospects for our thigh lift in Alpharetta.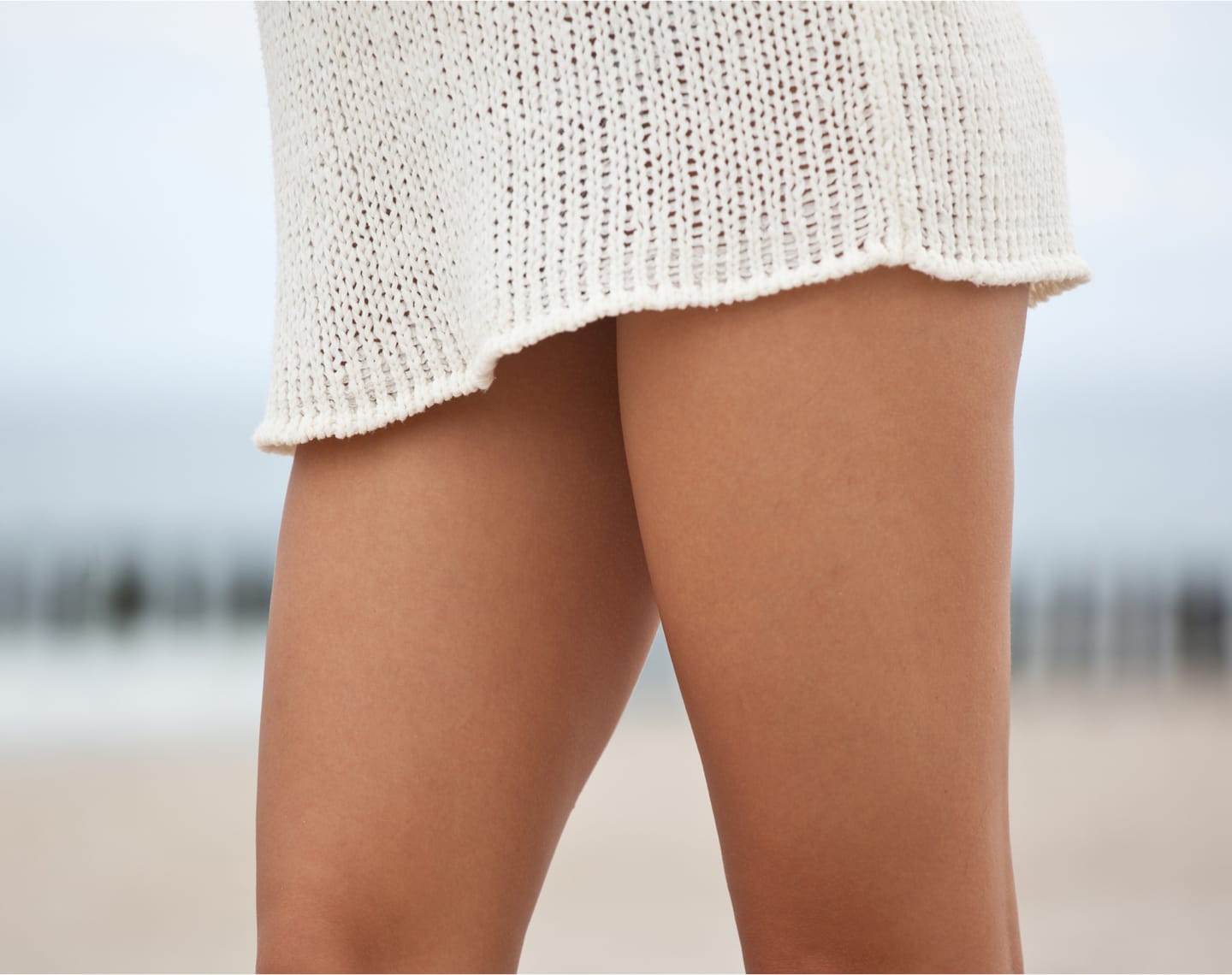 In general, Dr. Klein
suggests that thigh lift

clients are…
In good health, both physically and mentally
Free from any major medical conditions that might interfere with treatment
Non-smokers, or willing to quit prior to surgery
In possession of realistic expectations for their results
Willing to follow Dr. Klein's instructions
What can I expect
from recovery?
Whenever possible, Dr. Klein will conceal the incisions in areas that are covered by undergarments or bathing suits. The day after surgery, Dr. Klein will encourage you to move around to promote blood circulation. However, you should avoid straining, bending, and lifting for at least four weeks.
Wearing a support garment for a few months after surgery to further minimize swelling during the recovery process is also recommended. Patients are typically able to return to non-strenuous work within two to four weeks. You will be able to enjoy your reshaped thighs within months as your incisions fully heal and swelling has subsided.
What is the cost
of a thigh lift?
The cost of your thigh lift will be based on the techniques used to slim the thighs, and on Dr. Klein's customization of your treatment. The fees will increase if you undergo a tummy tuck, liposuction or mommy makeover along with your thigh lift. You will be provided with a thorough quote during your confidential consultation, and we will work with you to secure the best financing options for your needs.
Why should I choose
Dr. Klein for a thigh lift?
Dr. Marc Klein has been practicing body contouring for over 20 years and provides honest, personalized consultations as well as stunning results. He graduated with honors from Rutgers Medical School, after which he completed a demanding residency in plastic and reconstructive surgery at the Medical College of Wisconsin. Dr. Klein is a member of the American Society of Plastic Surgery.