Botox That Helps Breast Cancer
Princess 19 on 24 Oct 2011 at 9:00am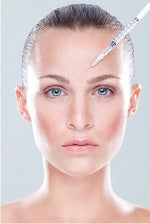 Would Breast Cancer Awareness prompt you to get Botox? One doctor seems to think so. So, he is having a "donate your wrinkles for charity" day.
California reconstructive and plastic surgeon, Dr. Jaime Schwartz created the "Rejuvenate for the Cure" event that is being held tomorrow at the Bright Health Physicians of PIH Plastic Surgery & Aesthetic Medicine Center in Whittier, CA. It is the first event of it's kind that we have heard of that donates proceeds from cosmetic procedures such as Botox or Juvederm injections to a mammogram fund that benefits women who would not be able to afford the important screening.
"Rejuvenate For The Cure" is a collaboration of many ideas," Dr. Schwartz told The New York Daily News.
"There are many breast cancer charities out there, but this one directly offers free mammograms to uninsured or under-served women," he added. "Given the economic climate and the amount of uninsured people in the US, many women are putting off getting mammograms and other preventative screening exams."
Dr. Schwartz ironically specializes in breast reconstruction for women with cancer. So, the goal in helping women – no matter what economic class – take preventative measures was always important to him.
Women can come into his clinic tomorrow and pay for injectables such as Dysport which were donated by various pharmaceutical companies to help with the Breast Cancer Awareness cause.
"Our hope is to take "Rejuvenate for the Cure" nationally," Dr. Schwartz concluded.
"It's a great feeling that someone in an affluent area could support a free mammogram for someone in a different under-served area by simply 'donating their wrinkles.'"
Well, this is one way of definitely "giving back" – and you'll get a younger looking face in return.
So, what do you think, readers. Is "donating your wrinkles" done as a worthwhile cause, or do you think this is just gimmicky ploy to attract new patients?